Most of you are likely familiar with BLDUP's newsletter, home page and project updates. But now let me introduce you to your new favorite bookmarked page, the BLDUP Documents tab.
While we are currently focusing our project updates on the Boston market we have begun compiling data across the country. The BLDUP database currently houses nearly 650,000 public records with that number growing each day. These documents include permits, deeds, mortgages, and leases from 47 states.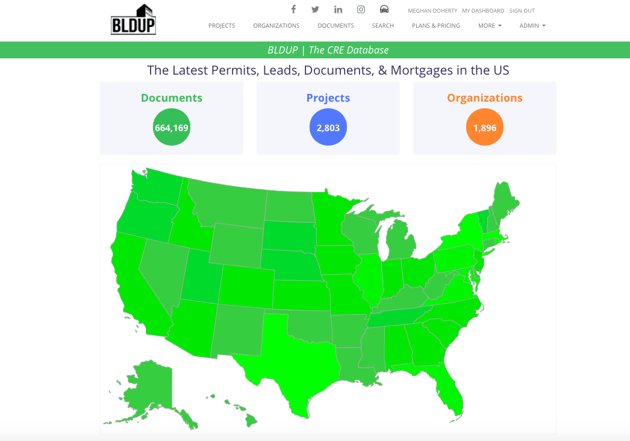 This data is coming from numerous websites in disparate forms and we have made it easily accessible and searchable. The BLDUP data team is adding new cities and towns each day. Here is a sampling of some of the areas covered in the Northeast.
MASSACHUSETTS
~350 Cities & Towns from Abington to Yarmouth and EVERYTHING in between
RHODE ISLAND
~40 Cities & Towns Including Providence

CONNECTICUT
~34 Cities & Towns Including New Haven, Stamford, & Hartford
NEW YORK
~50 Cities & Towns Including Albany, Buffalo, NYC
WASHINGTON DC AREA
~30 Cities & Towns Including DC, Arlington, Alexandria
USING THE DOCUMENTS TAB
Not only is the documents tab easily searchable but it allows you to find the history of all types of documents at a given address.
In this example, searching a specific location found ALL (permits, deeds, mortgages, leases) at 200 Clarendon Street in Back Bay, over 200 documents.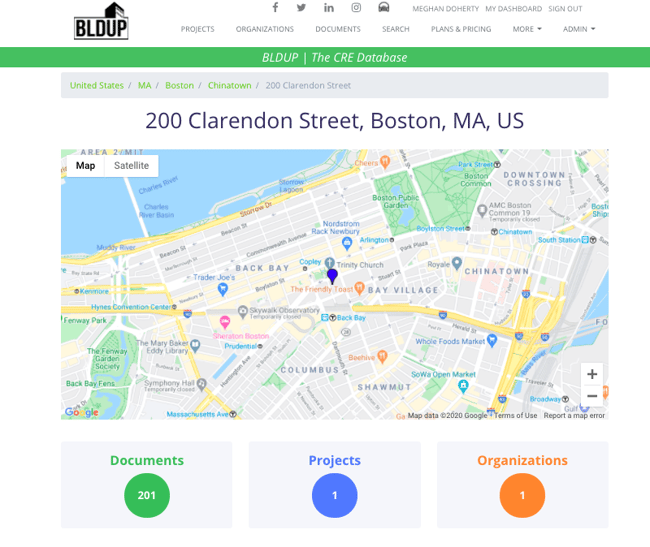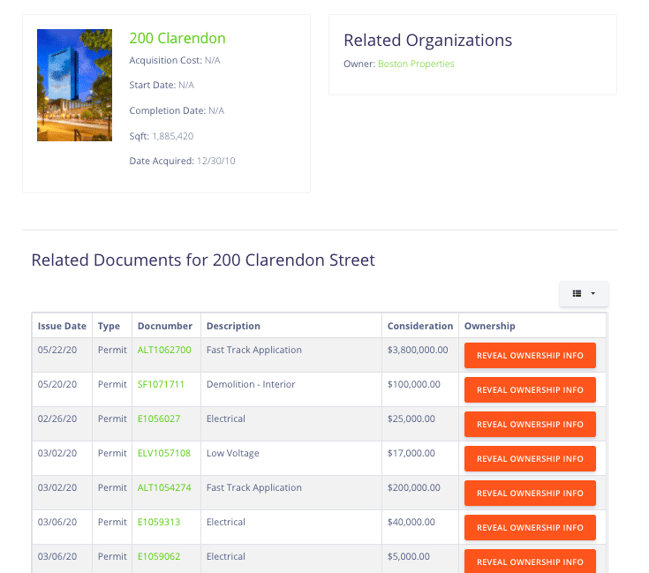 Along with searching for a set location you can also use the advanced filtering to search for documents that may lead to new business. Here are a few examples.
Check out who is buying property in a certain area. Search deeds from the last 6 months, over $1M or $2M within the entire state of MA or narrow down by County or City.
Looking to see properties refinanced or construction loans closed. This time search Mortgages, set your time frame, dollar amount and location.
See what new projects have started construction. Search permits across the state over $1M or $2M to see what major projects have pulled permits.
To see the documents tab in action check out a quick video here. If you have any additional questions or are looking for a particular set of data please email Meghan@bldup.com.