In Boston, and in cities around the world, governments and industries are imposing new deadlines to reduce greenhouse gas emissions.
The UN Climate Change Conference (COP26 Glasgow summit) brought parties together from across the globe to accelerate action towards the goals of the Paris Agreement and the UN Framework Convention on Climate Change.
Recently elected Mayor Michelle Wu has pledged Boston will be a Green New Deal city, and on December 1st she signed her first bill to divest city funds from fossil fuel industries by 2025. Boston's newly enacted Building Energy Reduction and Disclosure Ordinance (BERDO) now requires buildings spanning more than 20,000 SF to begin cutting their emissions by 2025 and to reduce them to Net Zero by 2050.
The built environment is responsible for 40% of carbon emissions globally, and the real estate sector is central to achieving global decarbonization.
In Boston, buildings account for more than 2/3 of emissions, and we are on the brink of big changes that will be necessary to reach carbon neutrality. Nearly every building will need to undergo retrofits to holistically and dramatically reduce energy consumption, and investment decisions for new CRE development are increasingly based on sustainability performance. Net Zero is the new North Star.
These Boston developers and projects are leading the way with LEED, Passive House Institute, International WELL Being Institute (IWBI), and WiredScore certified buildings:
Procopio Companies | Caldwell Lynn is the largest LEED Platinum-certified multifamily project in New England.
MP Boston | Winthrop Center will be the largest Passive House Institute-certified office building in the world.
Greystar and CPP Investments | 74 M - 74 Middlesex Avenue Assembly Square is expected to achieve LEED Platinum and WiredScore Platinum certifications.
WS Development | 400 Summer Street - Seaport Square Parcel P plans to achieve LEED Gold certification.
Toll Brothers| The Laurent - 55 Wheeler Street is designed to meet LEED Gold certifiable standards.
Build Your Business for the Sustainable Future
Follow projects on BLDUP to build relationships with the CRE and AEC professionals who are setting the standard for energy efficiency and sustainable development, prioritizing holistic green design, using high-quality materials, and embracing cutting-edge technologies.
For the 74M Project Page example below, click the Receive Updates button to receive email notifications on updates to this project. The Following tab lists the Projects and Organizations you are following.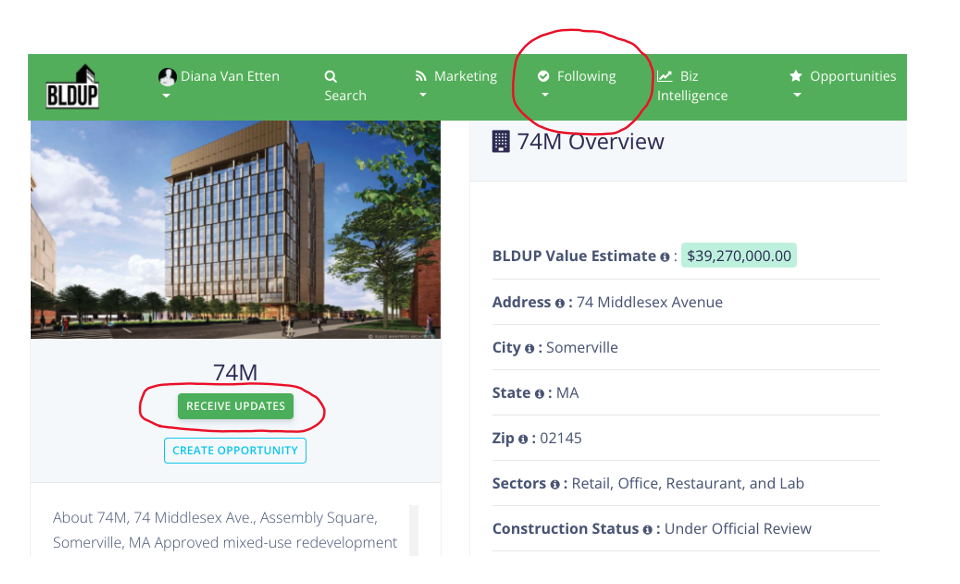 Follow developers like Procopio Companies and be the first to know about their news, updates and new projects. Click below to see how to follow an organization.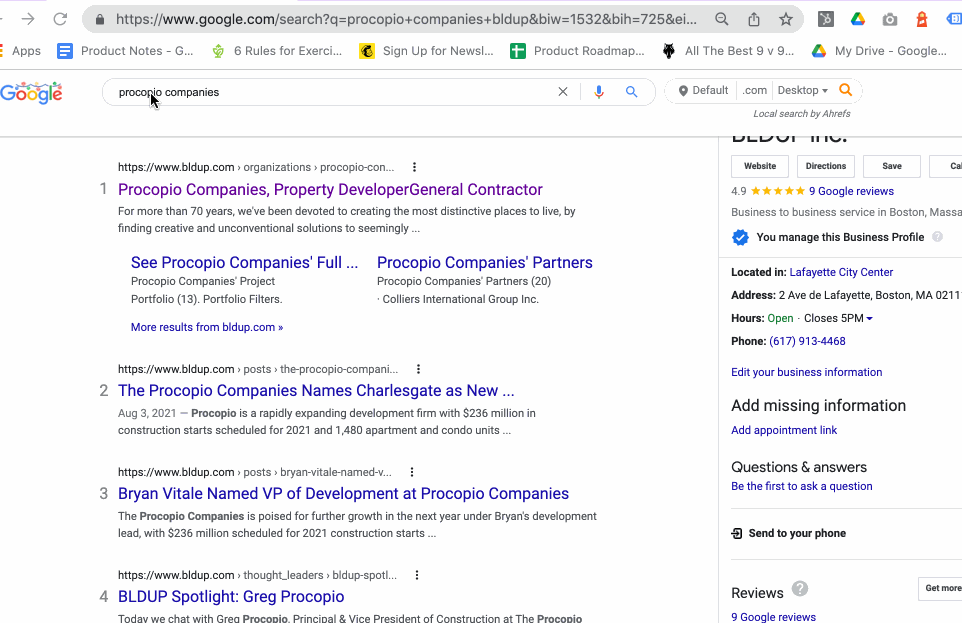 BLDUP is your resource for the people and projects driving the future of sustainable real estate development. Our team is here to guide you and ensure that you are up to date on the newest features and functionality of the BLDUP platform. Please reach out to diana@bldup.com or sarah@bldup.com to set up a Customer Success call. We look forward to helping you build your business for the sustainable future!