There is an overwhelming amount of data available in and around the CRE industry, most of which is found in disparate places that are not easy to use. Given today's circumstances, it will be more important than ever to devote time to finding new business opportunities as some of the projects you may be working on are stalled or won't begin as expected. BLDUP's Business Intelligence tool has been designed to get you the information most important to your business in the shortest amount of time possible. Below we've included a few examples of different Business Intelligence segments that can be run and then exported into excel spreadsheets with our InTheKnow product. Again these are just a few of the myriad combinations of the data you can pull from our system as you can sort projects, organization, and public records from across the state all in one location.
#1: For Developers
Find acquisition pricing, the price per square foot of land, recent transactions, the price per square foot of a building. Search all Land records in one location. Why is this significant? If you've ever tried to search the Mass Land Records website you will find that it's not very user friendly. We have done all the work for you identifying the most important projects that we believe are going to be developments in the future. We database those projects and make it easy and fast for you to find the information.
Filters
Timeframe: Last 120 days
Location: All of MA (or by town)
Cost: Over $2M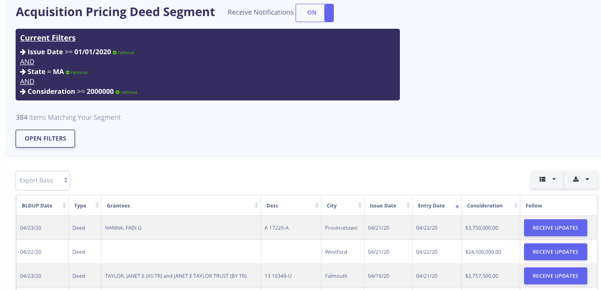 #2: For Brokers
Meeting with a developer to pitch a new project? Drop knowledge by running a segment showing what else is under construction or upcoming in their market, segments can even be broken down by neighborhood, displaying condos, apartments and breakout of any commercial space.
Filters
Neighborhood: South Boston
Status: Under Construction
Sector: Housing
Apt/Condo (Y/N)
# of Units
Construction Start Date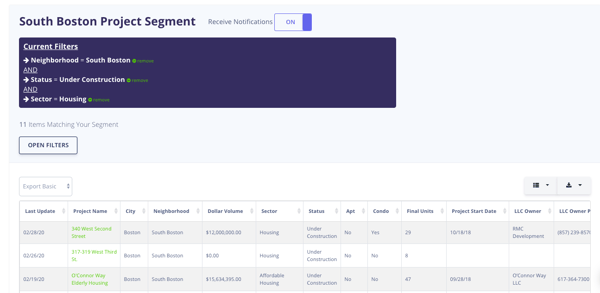 #3: For General Contractors
Find a list of approved projects that have yet to start construction. Export LLC owner information, sort projects by building type, size to find projects in your organizations' wheelhouse. This is a perfect time to reach out to developers.
Filters
Status: Project Approved
Sector: Housing
SF: Under 150KSF
LLC Owner Name
LLC Owner Phone Number
LLC Owner Email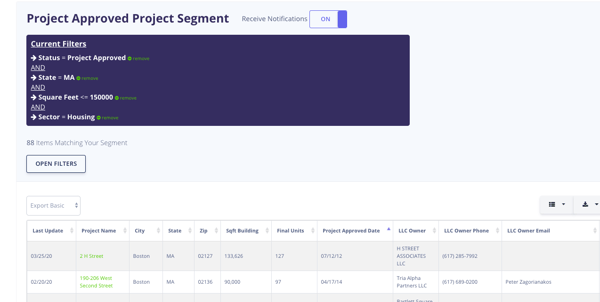 #4: For Sub Contractors
Check out all projects underway, sort by size/type depending on your specialty. Also check out project start date to estimate how far along a project may be. Easily see who the architect & GC are on each project
Filters
Status: Under Construction
Start Date:
General Contractor Name
Architect Name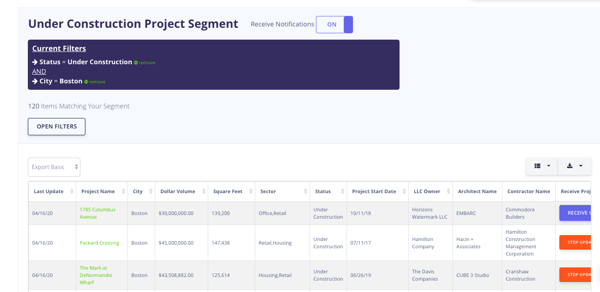 #5: For Architects/Engineers/Permitting Consultants
Find land & or buildings recently purchased with owner information. Projects may be opportunities for redevelopment or renovation.
Filters
Status: Acquired by Proponent
Date: Within last 120 Days
Sale Price: Over $2M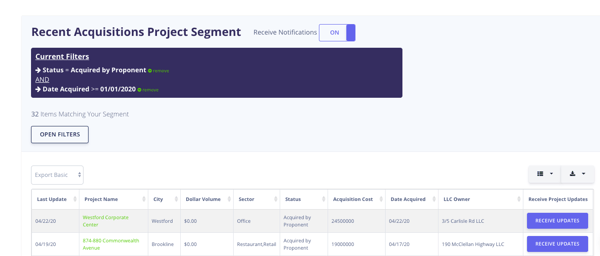 Have questions on a specific set of data, schedule a demo of InTheKnow to find out how you can start saving time on research, and easily find new business opportunities.