Build Business on Your Terms
Business Intelligence just got a whole lot smarter with
BLDUP Business Intelligence NEWS
BLDUP PRO customers already love BLDUP Business Intelligence. Biz Intelligence allows you to filter data based on criteria you choose, creating targeted lists for projects, organizations, mortgages, deeds, leases, and permits.
Did you know that BLDUP publishes up to 80 original news posts each week?
Every post is a treasure trove of news and information for your next deal or project, but sorting through all that news to find leads is time-consuming. Until now.
Business Intelligence NEWS is a quick and easy way to mine the diamonds in BLDUP news posts - and Build Business on Your Terms.
For a Fast Overview, watch our Biz Intelligence NEWS video here:
Here's how it works:
Filter BLDUP's news posts using specific industry terms, trends, keywords, and phrases that are relevant to your business and the customers you aim to serve. Create smarter Biz Intelligence segments with more precision than ever before!
Step 1
Choose the Biz Intelligence tab to create a new custom segment. Type in a name for your segment in the Name your custom segment field. In the example below the segment name is Transit Oriented Projects. Use the drop-down menu under Select Segment Type and choose News.

Step 2
Choose market. In this example Boston is selected. Filter by Keyword Search. In this example transit oriented development in entered in the value field.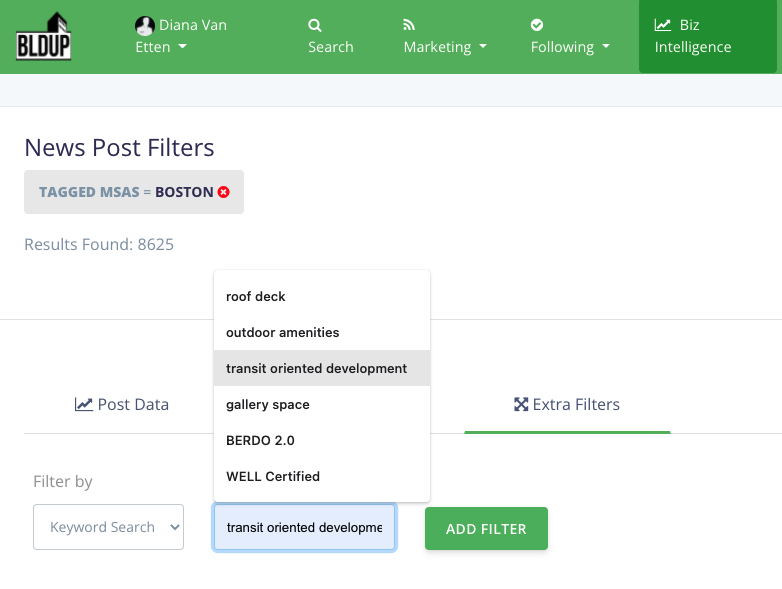 Step 3
Click ADD FILTER to generate the custom news segment for the keyword transit oriented development. In the example below the fourth row is a news update for a 23-unit Walpole Development that is approved for construction. Click the news title and it will take you to the news post. See the example below for The West End update 1/26/22. This new transit oriented project is located at 130 West Street, next to the MBTA commuter rail Union Station / Walpole Station.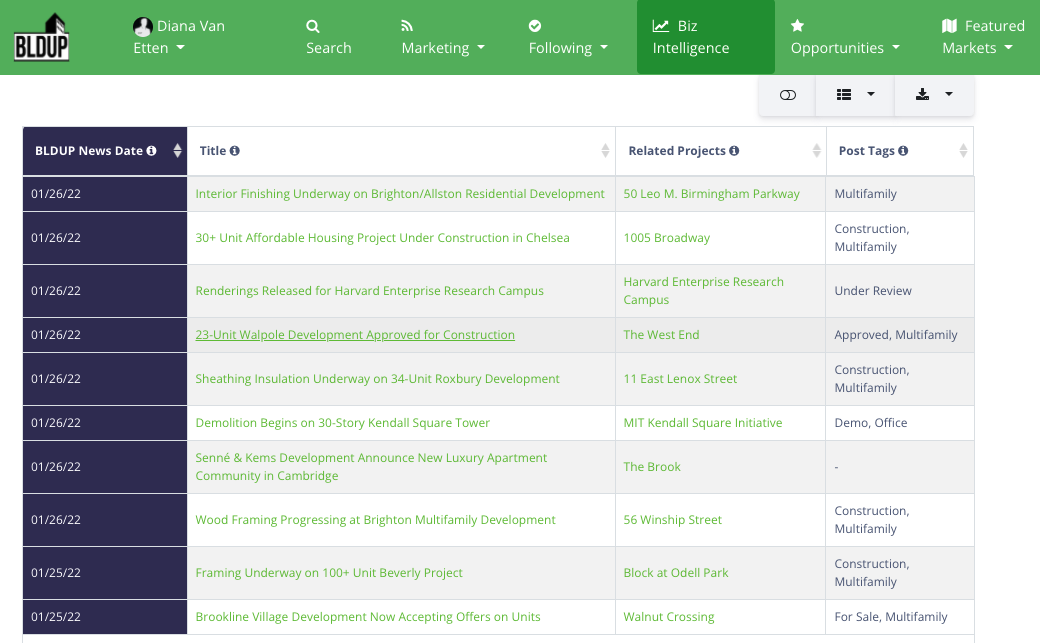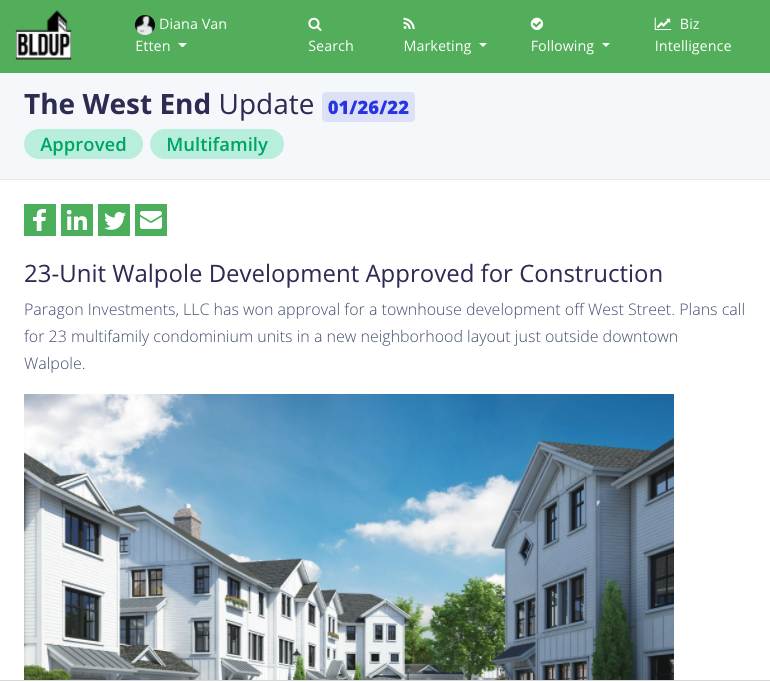 What sets your business apart? What is your unique value proposition?
Whether your business is high-end amenity space design, energy consulting, or environmental engineering, BLDUP is publishing timely articles on the trends and topics you won't find anywhere else.
Now you can harvest BLDUP news content using up-to-the-moment industry terms, keywords, and phrases to search out and go after the slice of market you want to serve.
Let us show you how to Build Business on Your Terms using Biz Intelligence NEWS. Please reach out to sarah@bldup.com to set up a call.